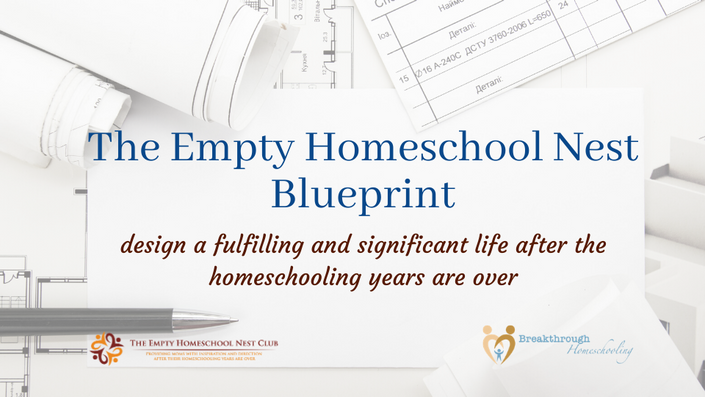 The Empty Homeschool Nest Blueprint
Design a fulfilling life after the homeschooling years are over!
Get started today!
So...what exactly DOES a homeschool mom do after her homeschool career is over? While the answer itself is personal and unique for each person, here's how to get started figuring it out...
If you're a homeschooling mom who approached homeschooling as a mission or calling, and not just a j.o.b., but has been too busy to really look ahead for yourself, then you already know that it's time to focus some of your energy and creativity on you, and preparing yourself for a fulfilling next step on the journey!
But let's start with some important truths...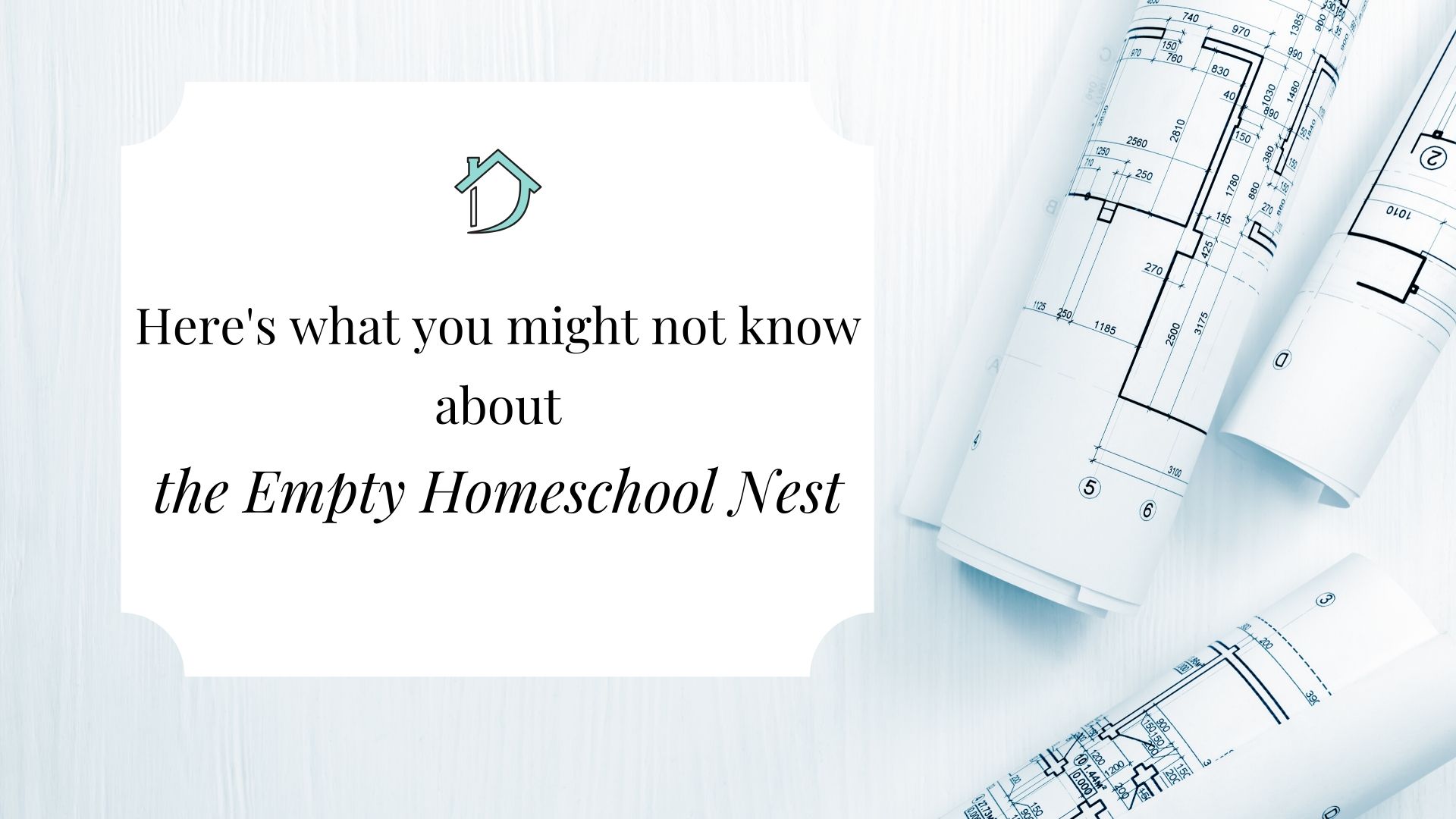 It's not "the end"
Not by a long shot, friend! Most homeschool moms are still rarin' to go when the've finished home educating. We've actually learned quite a bit ourselves over the years, and we're not about to sit around and eat bon-bons now...no, siree!
You have a ton of untapped potential
Over the years you spent hours and hours focusing on your child - figuring out learning styles, discovering curriculum, delving into the books, preparing her for an amazing future, watching him grow into an incredible adult. But somewhere along the way, I'm guessing you may have gotten lost in the shuffle, and perhaps lost site of your own potential. No worries, tho...because it's never too late. And now's your time!
Get ready for a time of amazing self-discovery
Seriously, now that you have the breathing space and time for yourself, I hope you're feeling released to start diggin' into your own "life prep", so to speak. I just KNOW you'll be so excited and encouraged by what you'll find - and I'm already getting excited for you :-)
This time of your life can be as rich - or even richer - than the years you spent homeschooling!
I know that may be hard to believe, because watching your own children grow, and being such an integral part of that, was pretty amazing, wasn't it (or "isn't it", if you're still homeschooling)? But now you can hone in on getting to know yourself and what else you can contribute to life, your community, and God. Your time isn't over...you haven't stopped being valuable and important - but you may not know just how to move forward. Well, strap on your seatbelt and hold on tight, 'cause it's gonna be a fun ride!
You don't have to do it alone...
Homeschooling was always a little more fun, a bit more enriching, a tad more challenging and exciting, when we were able to share the ride with others, right? Same here! We're all here for each other, so let's get to it - together.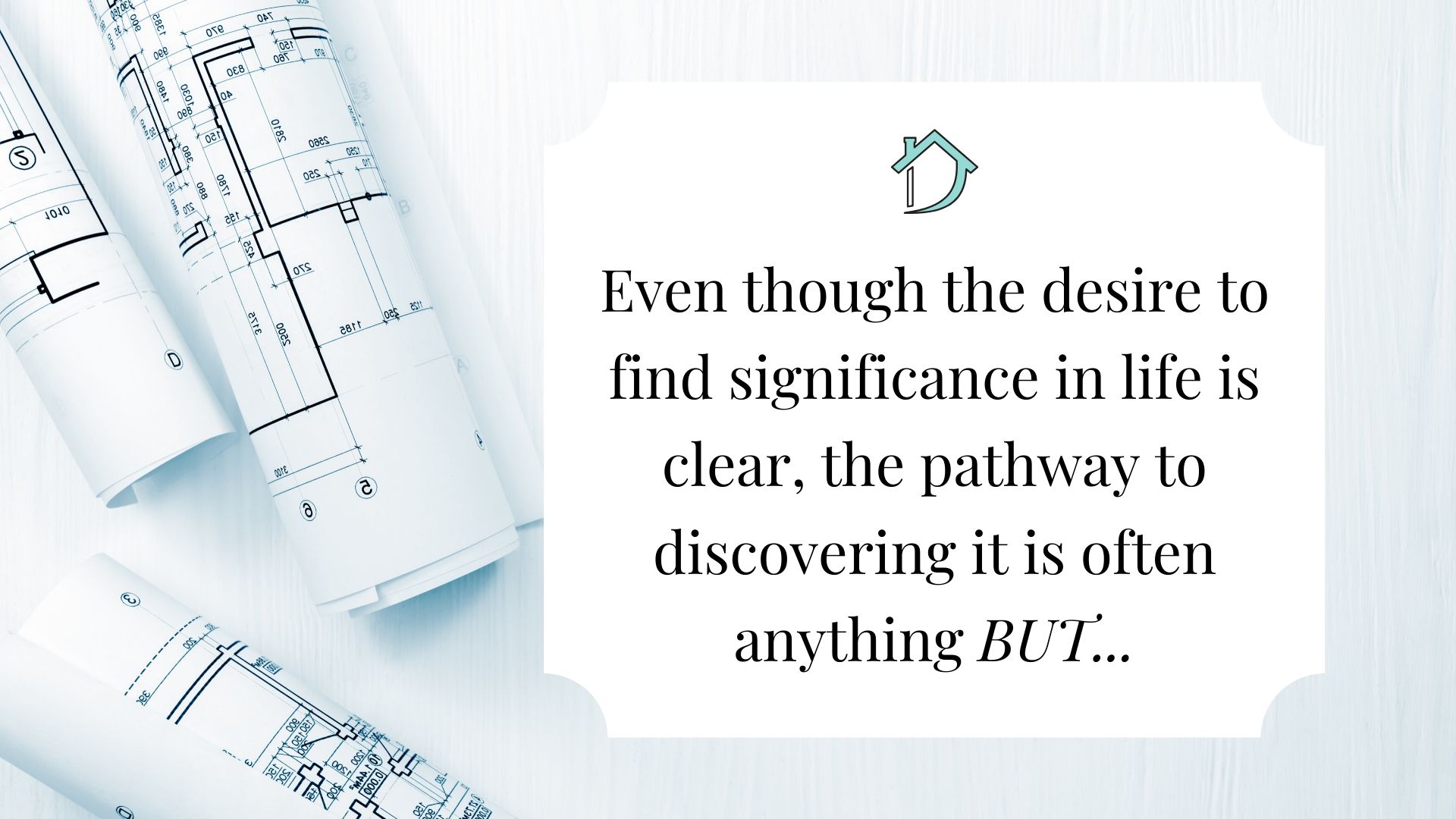 And as a result...
you were unprepared for the intense emotional impact of this stage of life, and this can cloud your vision of what you are able to do, moving forward;
you're somewhat embarrassed with people's question about your life at this point, such as "So, what do you do NOW?" and feel awkward struggling for an answer;
you question and doubt yourself and your abilities incessantly, causing you to vacillate between starting or trying something new one day, and feeling like "What's the use?" the next.
But no worries! Let me share a few things that you'll find helpful:

Identifying and replacing "stinkin' thinkin'" with these liberating counter-beliefs will help you through this transition in life, now and in years to come:
Stinkin' thought #1 - This phase really isn't a big deal.
Mindset upgrade #1 - YES it IS! You still have so much to offer, and every transition in life is full of possibility!
Stinkin' thought #2 - Ya' can't teach an old dog new tricks...
Mindset upgrade #2 - Tell yourself this instead: God has given me gifts and talents for every season; I only stop learning and growing when I die ;-)
Stinkin' thought #3 - I'm not worth the effort.
Mindset upgrade #3 - Think on this verse, and know that it does NOT only apply to youth; it applies to us all: "I praise you because I am fearfully and wonderfully made; your works are wonderful, I know that full well." Psalm 139:4
Stinkin' thought #4 - But I'm scared!
Mindset upgrade #4- Remember how you may have responded to your kids when they said that? Give yourself the same pep talk - or find a friend and ask her to give it to you. Change your mental tape to "Hey, I GET to...(insert whatever you're afraid of here)!"
Stinkin' thought #5 - I don't have the money for this...or any training...
Mindset upgrade #5 - When I think back to some of the activities my kids wanted to do, or I thought would be beneficial to them, somehow we found a way to make it happen. Apply that same creativity here, mom... to your benefit, this time!
Because homeschooling is growing by leaps and bounds, more and more homeschooling moms will be retiring in the days to come.
Although we will all eventually weather the transition, many of us initially have no idea what to do first! And therein lies the "dirty little secret" of homeschooling:
We've been conditioned to think that after we've closed the books for the last time, life goes on...no big deal...we'll just find something to do since we've completed our life's calling...
But we're NOT called to just do "something"...we're NOT called to mediocrity!
We're not done with life or our only mission, and we ARE worth an investment of our resources to discover what next steps we're destined to make!
To that end, I've put together a blueprint to make that happen, and with your permission, I'd love to outline it for you!
Introducing...

An 8-week program with brief videos, illuminating assignments, interesting activities, useful tools, good company, and lots of interaction that will enable you to dig deep, make exciting discoveries, and craft a personalized blueprint for significance in your own post-homeschooling life!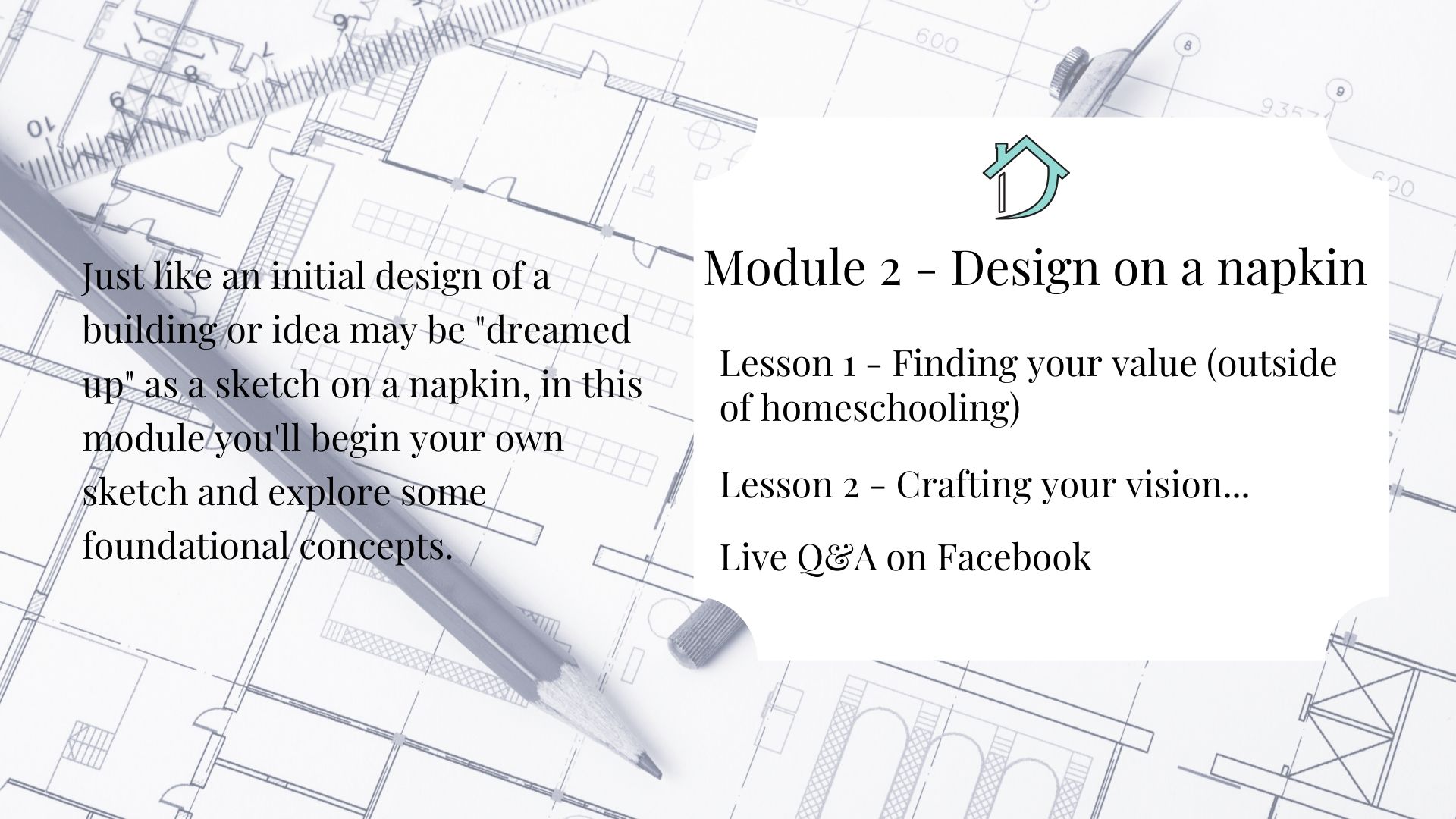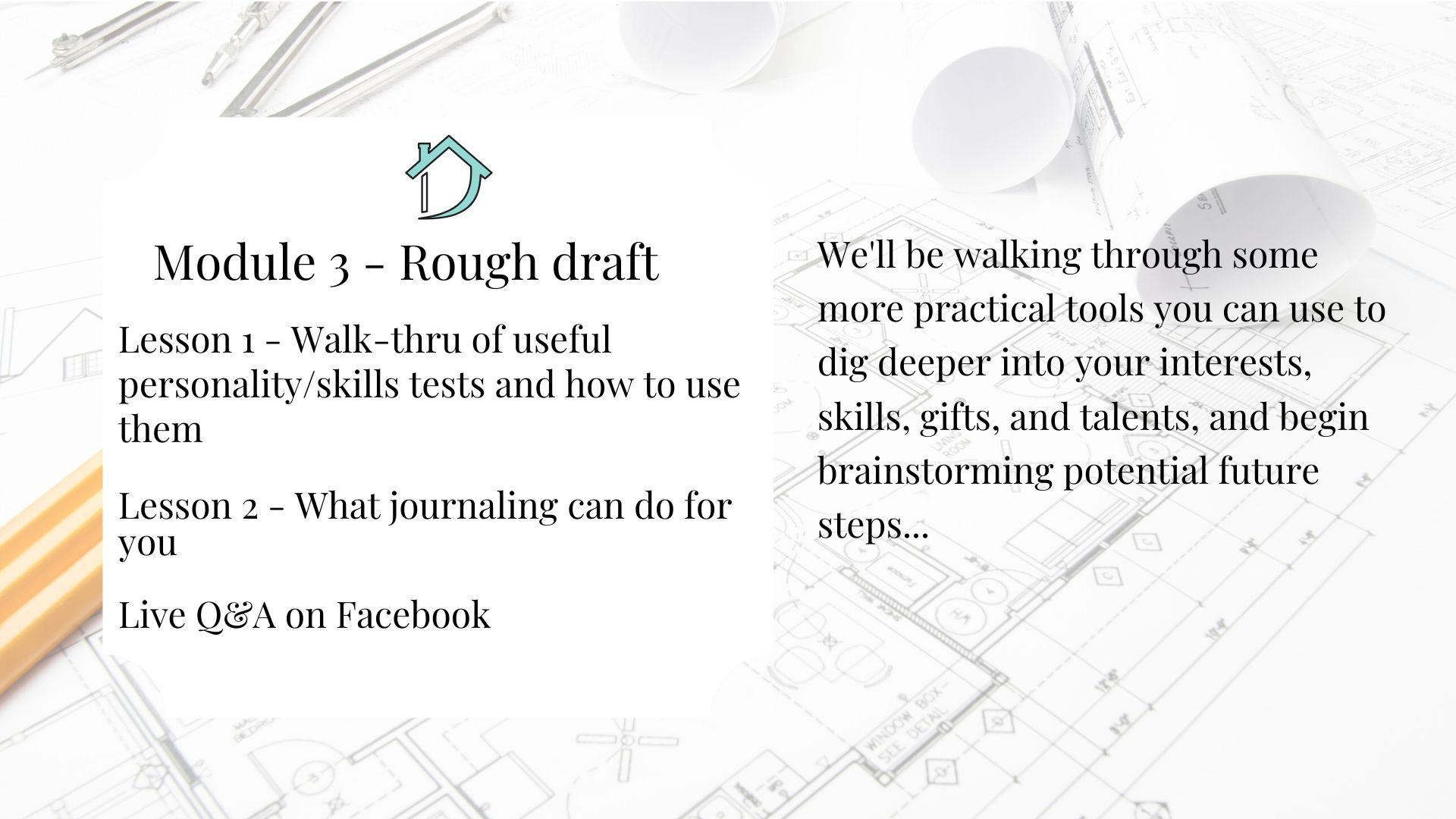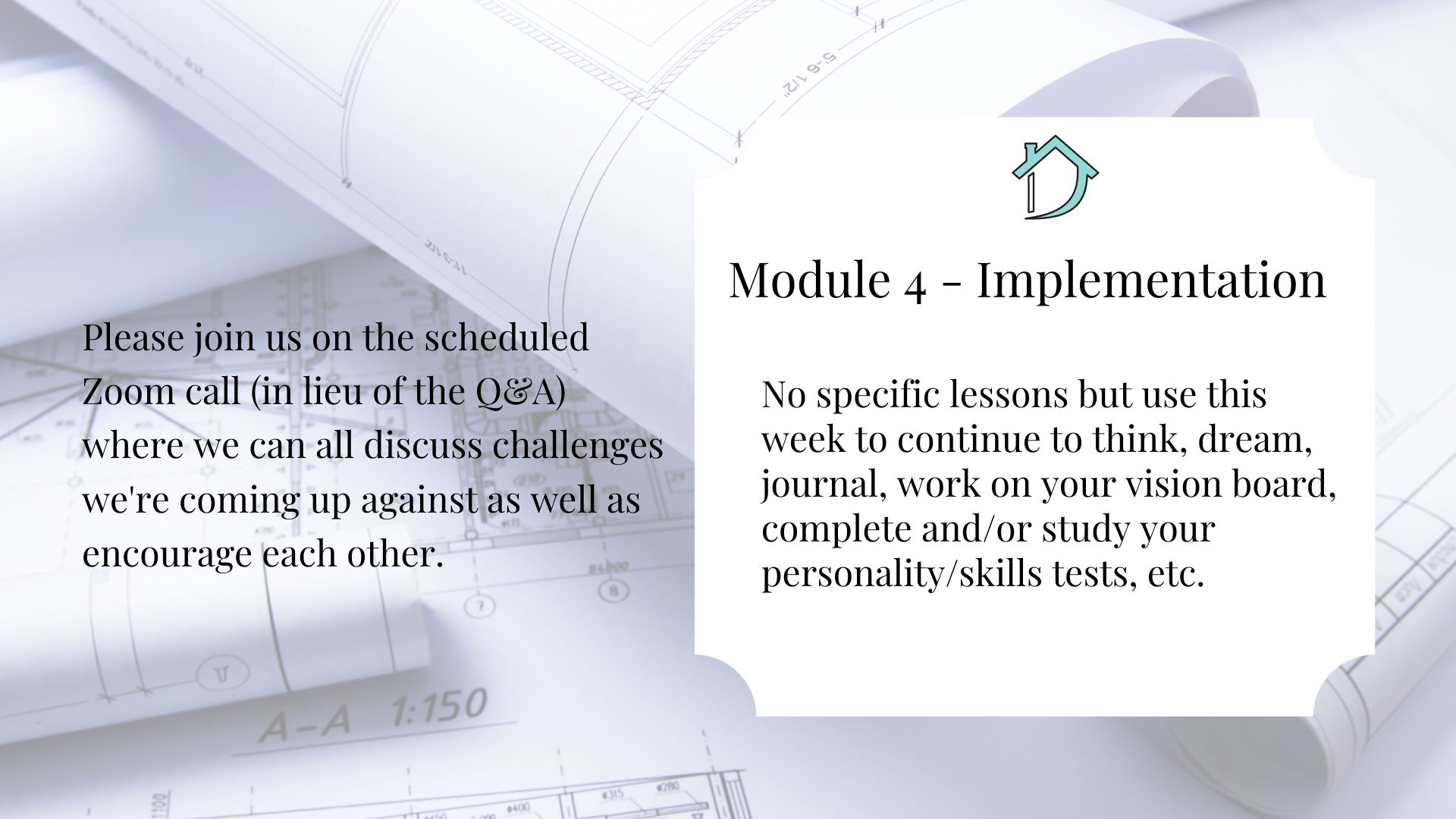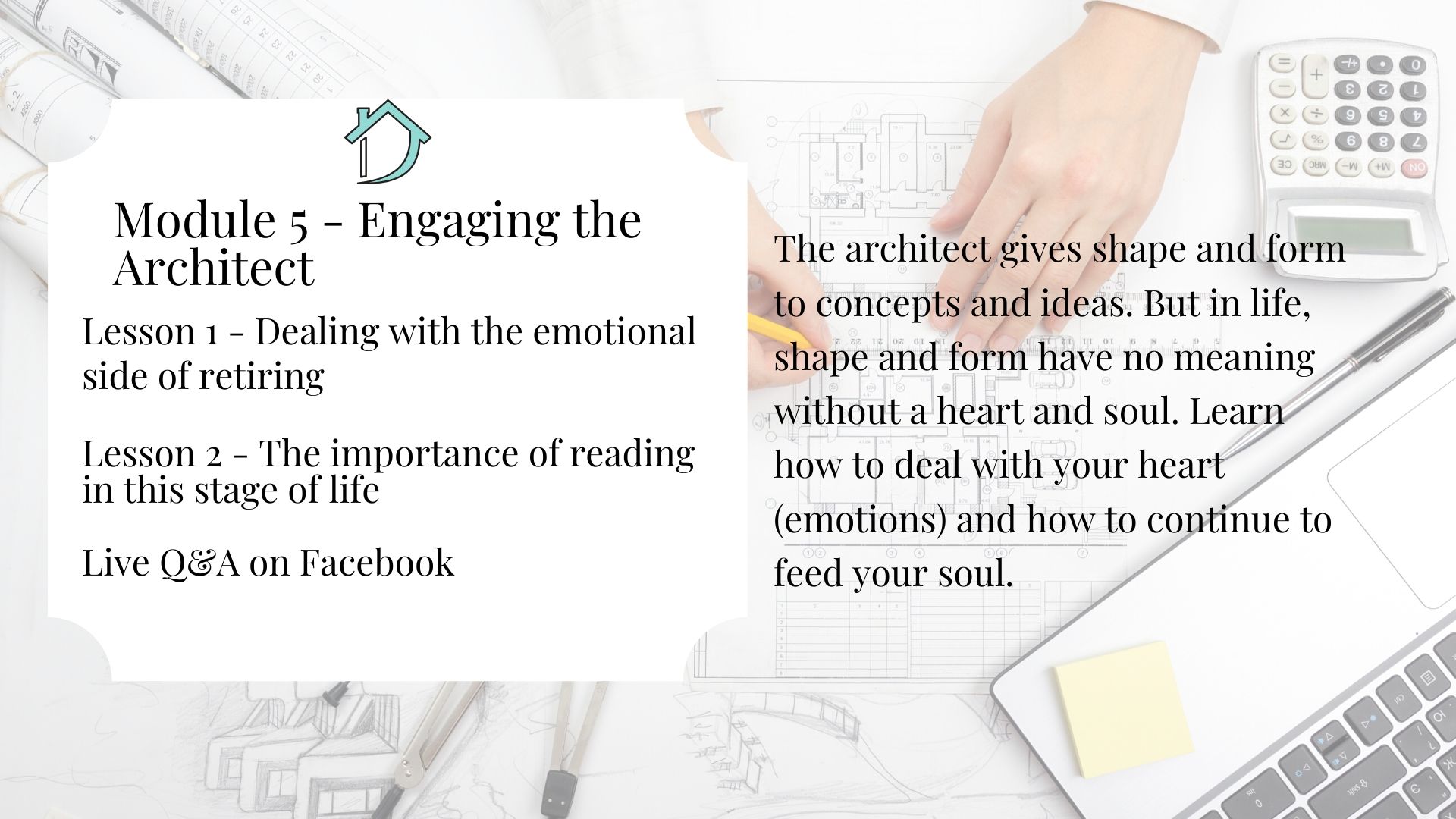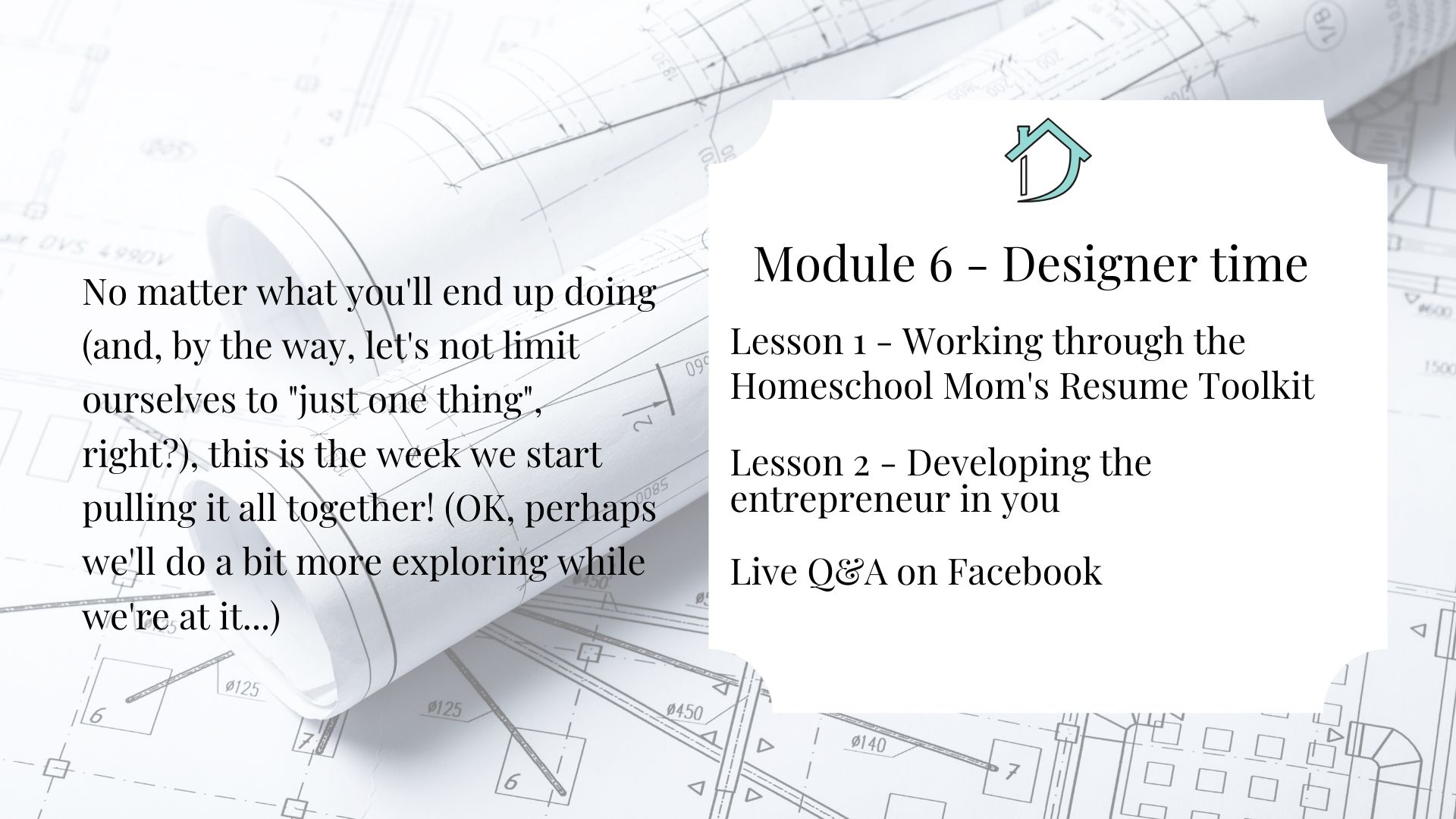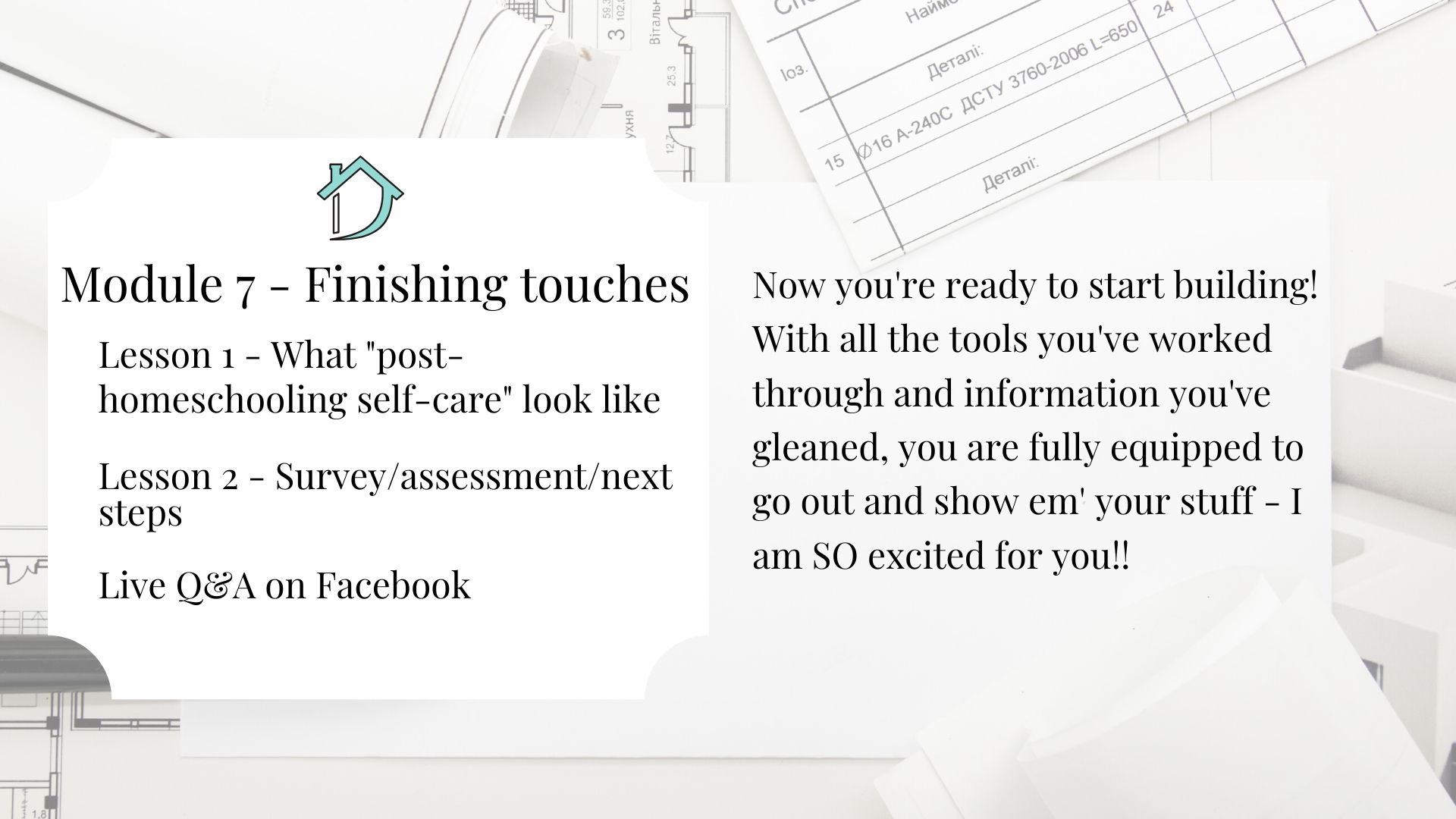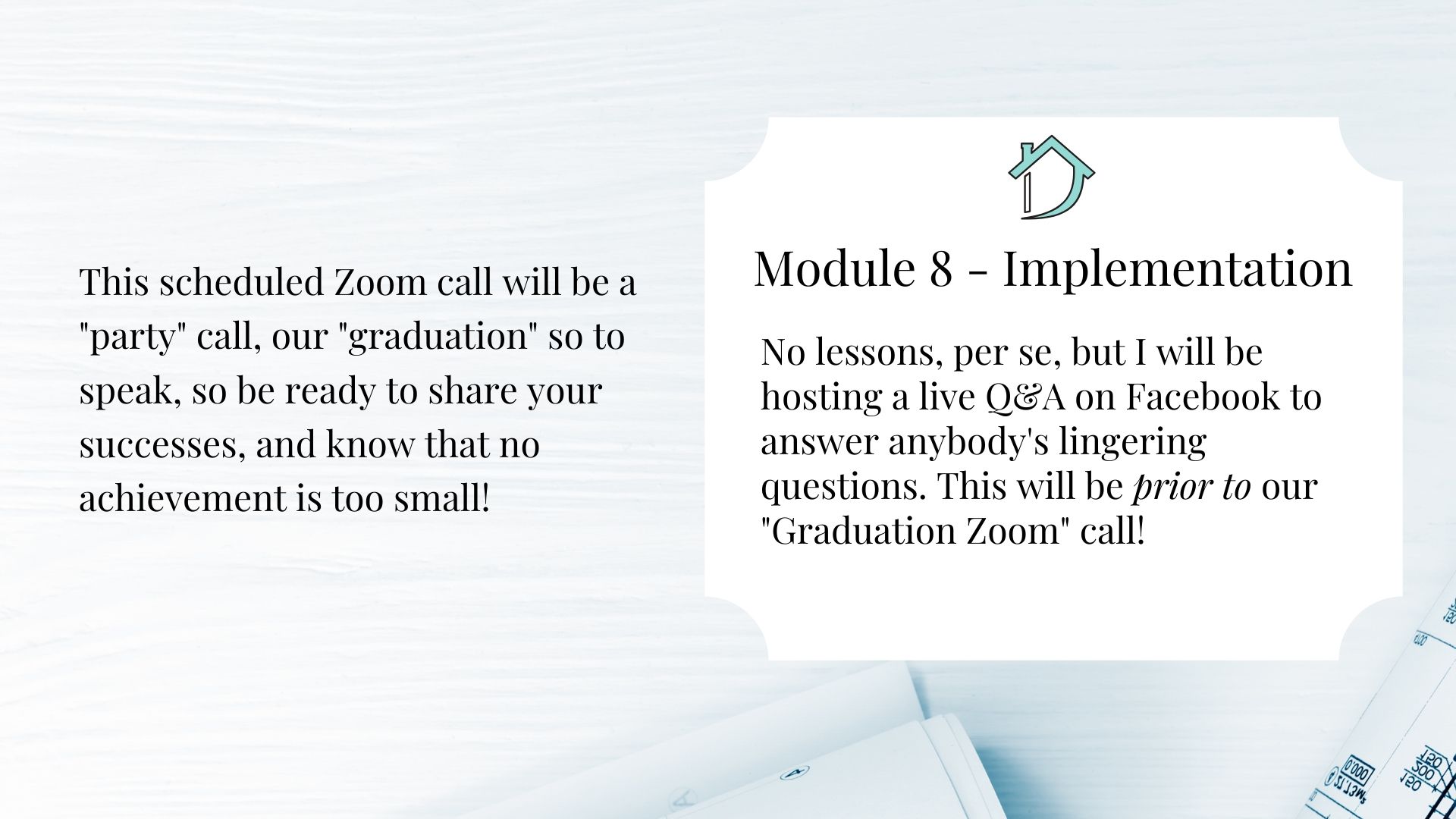 And this is all covered by my very special...
..."Golden Guarantee"!

The Empty Homeschool Nest Blueprint is designed to help you bring clarity and determine a plan for a fulfilling future for yourself. Understanding the process and then stepping out in confidence will result in a deeper and richer enjoyment of life, the ability to meet continued challenges and a growing feeling of significance.
If, within the first 30 days of the live course (by the time of our first implementation week, week 4), you have completed the work outlined in the first two modules and you do not feel you're on track to designing a fulfilling future, please reach out to me via email and I will personally refund your money.
Of course, we'll all be sorry to see you go, but I do understand (as homeschoolers do) that we all learn in different ways, and some of us "go it alone" better. The point, dear friend, is that you learn along the journey...so no hard feelings!
So, to summarize, you get:
The EHN Blueprint - $200 Value
Printable workbook - $50 Value
Access to 2 Facebook Lives and forever access to the group and recordings - $75 Value
Live attendance at 2 online meetings and forever access to those recordings - $150 Value
Bonus - A print copy of "The Empty Homeschool Nest" book and journal - $25 Value
TOTAL - $500 Value
---


Do I really need a course for this?
Nah, you can spin your wheels for months, heck, for years, figuring this stuff out. You can mope around the house or grab a job at "Wally world" just to get out during the week. Or you can just try the next thing that comes along, secretly wondering - and hoping - that there's more to life. To your life. You already know how fast the time flies, and you already know that as each year passes, it only goes by faster, right? Maybe a course isn't for you - and you already know that. But if you aren't sure...and you have no game plan. Well, what can I say?
So, then, who is this course really for? I still have a few years left...
I'd say that if you "know" you're within five years of finishing up with homeschooling, you should definitely grab it at the Founder's price. The course materials are yours forever, so even if you only casually participate now, you can always dive in deeper when you're ready. Just know two things:
we never really know when we're done with homeschooling. Life has a way of "happening" sometimes. And
I'll be adding lessons and materials as time goes by, and will be adjusting the future price accordingly.
I dunno, this seems a bit pricey...
Well, pricey is a bit of a subjective term. Over the course of 8 weeks, the regular price works out to about $25/week, or $3.60/day. Hmmm, that's about the price of a specialty coffee ;-) Do you think having someone coach you thru this transition is worth that amount? Do you think you're worth it? (And of course, dear friend, my answer is that you're worth far more than that...) Do you think that ending with a clear blueprint, ready to take your next steps confidently in a positive direction should call for some skin in the game? I do admit, I have no idea what your family budget is like, and I would never counsel someone to go into needless debt. I guess the bottom line is that you know your priorities, and I trust you with that.
When does it start and finish? How long can I take to finish?
This session that you are signing up for starts on Monday, January 6, 2020, and lasts for 8 weeks. But you'll have a lifetime to continue to dream and craft and work out your personalized blueprint after the official materials are presented... After enrolling, you have unlimited access to the course materials for as long as you like or need - across any and all devices you own.

You are ready to nail down an ah-MA-zing post-homeschooling life using the Empty Homeschool Nest Blueprint IF:
you've never given much prior thought to what's in store for you in this stage of your life...
every time you DO think about your life at this stage you draw a blank...
your "baby" just graduated - or will be graduating soon - but you can't even think beyond that capstone event...
for one or a myriad of reasons, you may find yourself retired, and there you sit. on the couch. in shock. But...
you want to be a great example to your kids about continuing to learn and grow in adulthood...
you're anticipating exciting self-discovery side-by-side with like-minded moms who are on a similar journey...
you care about continuing to use the gifts and talents God has given you to the best of your ability...
you're excited to craft your own personal and personalized blueprint to a fulfilling and challenging future...
you know that, after spending all those years pouring into your kiddos, it's time to invest in YOU. You're confident in your value and worth, and trust that with a bit of guidance and encouragement, you have a bright future, too!
** Did you catch yourself nodding your head to any of these? **
Then this is your time! I've got nothing more to say...
But if you still have any questions, feel free to drop me an email and I'll do my best to answer them.
Until then...looking forward to seeing you in class soon!!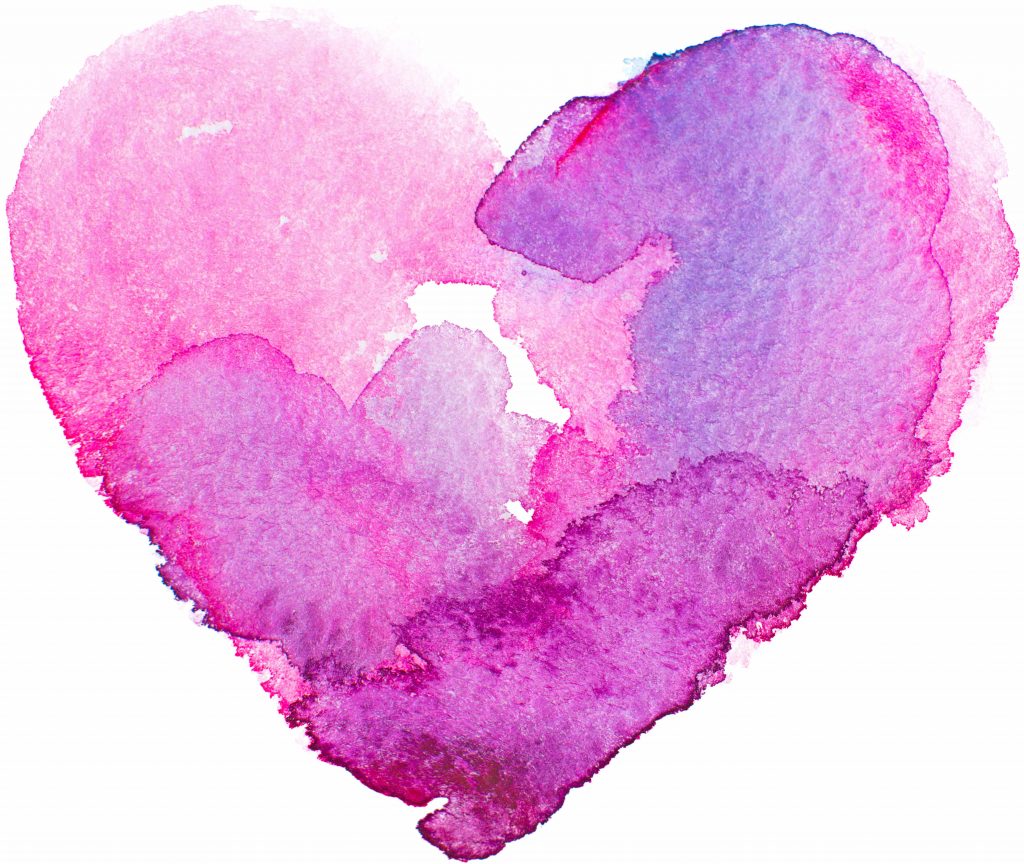 Your Instructor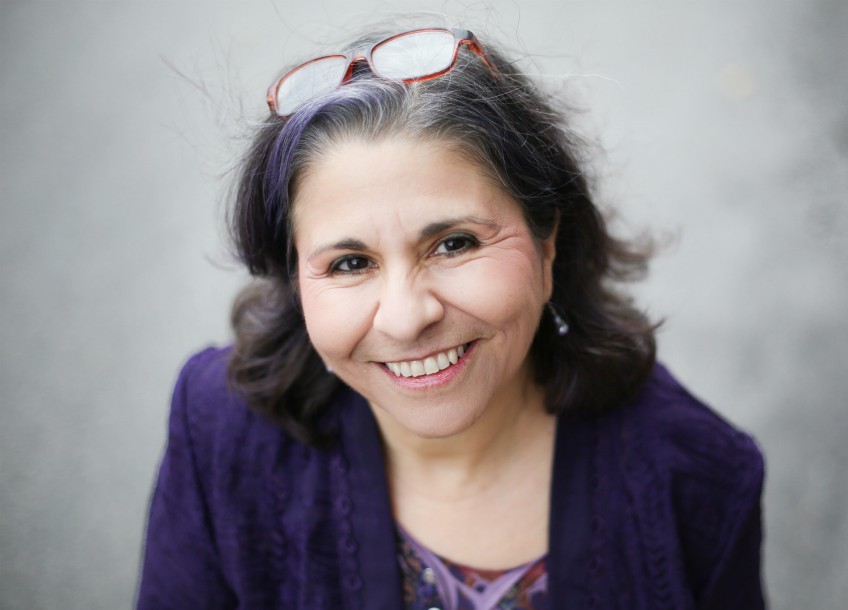 Wife to one, mother to 5 and homeschooler for 23 years, Pat has a passion to encourage and inspire homeschool moms! Her favorite years of homeschooling were the high school years, and Pat especially designed this course to ease the anxiety many moms feel as they approach teaching their teens. Having graduated 4 of their 5 kiddos, she knows it can be a marvelous time - and she wants every homeschooling mom (and family!) to have a similar experience. You can do it!