Do you struggle with any of these issues...or others?
* Working out a schedule or routine - and getting your family to stick to it?
* Homeschooling multiple ages, or trying to keep it all together with little ones running around? 
* Unsure of where to turn when you have a homeschooling question?
* Taking care of yourself in the process? Finding "mom time"? Quiet time? Prayer time? Perhaps even struggling with depression?
Then have a seat at The Table!
Our mission is to provide h
olistic support for the homeschool mom as a parent, educator, and person!
But what does that mean?
It's common for moms to get so wrapped up in the parent and educator roles that they forget about themselves as people - with their own needs for health and growth.
At The Homeschool Table, self-care is at the core of all our materials. Because if you don't take care of yourself, how can you serve others?
We know you're taking your job as a home educator seriously - all of us in this community do!
Here's your opportunity to pour yourself a cuppa', get comfy, and interact with other kindred spirits.
It is a journey...
it does take a village...(but we call it a community!)
and you will get as much as you put into it!
So take your seat, my friend, and join us!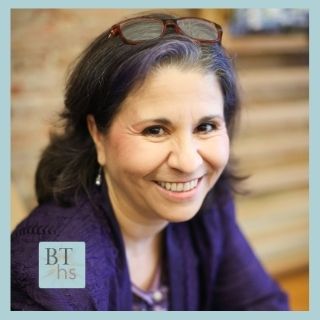 Meet your hostess
I believe homeschool moms have one of the hardest jobs in the world! Now, while I don't believe homeschooling is or has to be hard...holding the reigns can be lonely, discouraging, and sometimes a bit scary...
But it doesn't have to be!
After almost 25 years of home-educating our five children (and graduating four of them!), I still work hard serving the homeschooling community.
Extending hospitality comes second nature to me - and I can't wait to serve you at The Table.
Podcaster, author, wife, mother, and now grandmother...my prayer is that God will continue to work through me to bless YOUR homeschool and YOUR family -
Let's get to know each other!
What others are saying...
*How do you define "holistic?"
Whatever you might think about that word...put it aside for just a minute.
Holistic
 is an adjective that means "considering all the parts of something as a cohesive whole."
We're homeschool moms. People - not robots. And, as such, we have many parts to our lives:
physical

mental (academic/intellectual)

emotional

spiritual

relational
So often we consider "homeschool support" as a resource or person who can help us choose the right curriculum...or teach us a technique to get our kids to finish their assignments...or show us how to put a great transcript together... All well and good - all things we need to know.
But there's so much more to the homeschool mom's life, am I right?
Helping you grow in these five areas is the motivation behind all the materials, videos, workshops, and pdfs you'll find here. It's the heart behind The Homeschooler's Table!
Check your inbox to confirm your subscription